Thanks to everybody who listened in last night. It was a great debut show with Chris Huff joining us live on air.
Last night we featured
Death and Texas

Lp

by Chris Huff
and
Pin Oak Pottery
from
Artfire
.
Pin Oak Gallery
Pin Oak Pottery is located in the rolling hills of north Texas. Pamela creates pottery ranging from everyday ware to imaginative mask. Each piece is handcrafted by throwing the piece on the potters wheel or hand building. High fired stoneware is dishwasher and food safe.
Artisan's Bio:
Pamela Frazier McMahon, clay artist and owner of Pin Oak Pottery .

Ceramic classes in college, workshops from nationally and locally known artist have assisted Pamela in her thought and creative process. Her mask are created using her "minds-eye". Each mask has the distinguished large nose or large ears. The clay mask can be hung in or outdoors.

I hope you enjoy each piece for the beauty it brings to everyday living. Thank you for purchasing a piece of pottery made by hand and from her heart.

Product Description: Stoneware ceramic 4"x4" longhorn plate. Perfect for holding coins, food, candles, soap, spoon rest or practically anything. Dishwasher safe. Fired to 2208 degrees, non toxic glaze.
Inspiration / Story behind this Product: Longhorn cattle roam in the beautiful State of Texas. My desire was to capture the outline of the cattle for everyday stoneware vessels.

Price: $8.00 US plus shipping of $3.40.
Visit
Pin Oak Gallery
for some great pottery at great
prices
.
Death and Texas LP by Chris Huff
Carefully crafted melodic rock combining the best of jam bands with new wave
Britpop
into a timeless blend that is both
rootsy
and modern. Fun to listen to if you experience violent mood swings or hear voices.
The CD was recorded while Chris was traveling around the US and Canada freelancing with a Broadway tour. He produced several projects for members of the company, most notably for Broadway singer Randal Keith (Les
Misèrables
, Phantom,
Spamalot
).
Thank you for calling in last night Chris and sharing some of the behind the scenes of this CD. I look forward to your next project. Visit Chris Huff at his
website
and
blog
.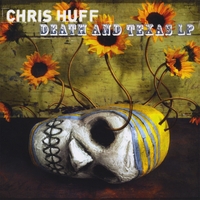 1 Hey Now Now
2 Oceans Never Freeze
3 Ghosts Of The Past
4 Lost In The Mausoleum
5 For The Trees
6 Neighborhood (Ain't It Time)
7 Then We're Dead
8 The Cause